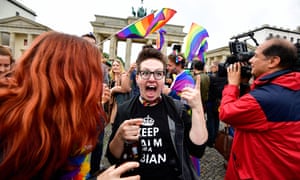 On Friday, the lower house of the German parliament, the Bundestag, passed a bill giving same-sex couples equal marriage rights. The bill had come from the chamber of the regions: the Bundesrat upper house. This means that later this year, the rainbow curtain of marriage equality, which currently sits along the western borders of Germany, Switzerland and Italy (ignoring Northern Ireland) will shift eastwards. Why has it taken Germany so long?
Germany has allowed registered life partnerships for same-sex couples since 2001, initially with far fewer rights than married couples enjoyed. For instance, same-sex partners couldn't file joint tax returns, which had a negative financial impact on their day-to-day lives. Litigation and a succession of legislative changes eventually brought these rights in line, although not in the case of joint adoption.
This did not reflect the reality of the lives of LGBT families in Germany, who regularly have children placed with them for fostering, not just in Berlin and other big cities but also in small towns and villages. Chancellor Angela Merkel said she was moved recently by visiting a lesbian couple in her rural constituency who had invited her into their home. Seeing that they had been trusted by social services with a succession of long-term foster children was apparently a life-changing experience for her.
Even with largely equal rights, a separate-but-equal institution is by its very nature as discriminatory as having different schools or seats on the bus for people of different ethnicity. The Christian-conservative politicians in Germany who claim that marriage has always been the same – the union between one man and one woman (always in that order) – ignore that marriage has constantly changed: not only has marriage historically been a form of ownership of women, but it was also only 82 years ago that marriage between Jewish and non-Jewish citizens was criminalised in Germany. Public opinion does not reflect this conservatism with 80% – and even 62% of Christian democrat voters – in favour of equal rights.
What took Germany so long? Although the bill from the upper house had been before the Bundestag for almost two years, it had been adjourned again and again on the basis that it needed further discussion within Merkel's grand coalition with the social democrats. Meanwhile, LGBT families continued to face daily discrimination and children were living in families which weren't recognised by law as equal to "regular" families. A legal challenge to these adjournments was unsuccessful. Despite her recent enlightening encounter with her constituents, the German leader could not bring herself to vote in favour of equal marriage, or even to abstain. She had, however, agreed on Monday to her party having a free vote, which meant that the question of when the matter would come before the Bundestag was no longer something the coalition partners had to agree on. So the social democrats were able to move the bill into the house and then pass it together with socialist and green opposition MPs and some 70 Christian democrats.
By allowing a free vote, Merkel knew that the matter would be dealt with this week, on the last day before the summer recess, and probably before the autumn federal election. While this caused some tension in her party, current polls indicate that the outcome of the elections is likely to lead to a further grand coalition under Merkel's leadership. Having this matter out of the way will make it easier for her to negotiate a coalition agreement while, at the same time, individual candidates from her party can claim allegiance to equality. While LGBT families had to wait for equality for years because of Merkel's self-confessed "tummyache" on the matter, she has yet again shown herself to be a cunning political player.
Nevertheless, there is a mood of celebration. I'm already thinking about outfits for a string of wedding invitations. Many of my friends have been crying with joy this week. After many years, or even decades, together, they can finally get married like any other couple and their children no longer need to think of their family as second class.
Since you're here …
… we have a small favour to ask. More people are reading the Guardian than ever but advertising revenues across the media are falling fast. And unlike many news organisations, we haven't put up a paywall – we want to keep our journalism as open as we can. So you can see why we need to ask for your help. The Guardian's independent, investigative journalism takes a lot of time, money and hard work to produce. But we do it because we believe our perspective matters – because it might well be your perspective, too.
I appreciate there not being a paywall: it is more democratic for the media to be available for all and not a commodity to be purchased by a few. I'm happy to make a contribution so others with less means still have access to information.Thomasine F-R.
If everyone who reads our reporting, who likes it, helps to support it, our future would be much more secure.
Source: www.theguardian.com